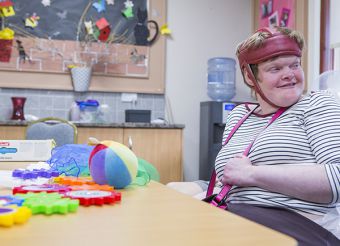 Facilities
Brookvale is neither a nursing nor educational provision but we do benefit from a wide range of facilities and activity programmes.
In addition to our day centre, which offers a wide range of stimulating activities, we are fortunate to have our own hydrotherapy swimming pool.
All clients, residential, respite and day care will have access to this fantastic facility which provides a fun and active environment and enables people with physical disabilities opportunities to relax, stretch and unwind.
Brookvale also takes advantage of skilled professionals who come in to take classes and utilise our facilities. This includes music therapy, yoga classes and friendship groups.
We welcome ideas and feedback from our clients and families and are always looking for new, exciting activities to offer.